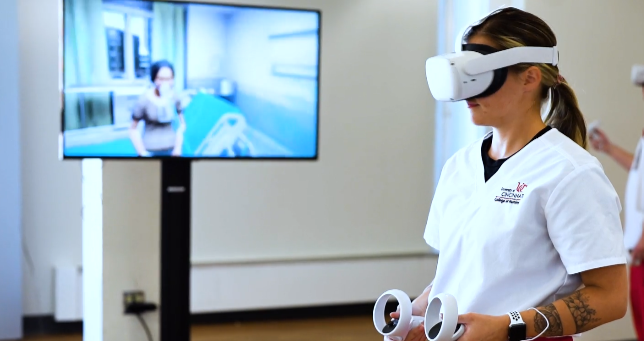 Technology and Innovation
Guided by our vision and supported by a group of faculty, staff, students, alumni and community partners who embrace a spirit of innovation, UC College of Nursing prepares nurse leaders to provide the best care for all patients in the ever-changing and increasingly complex reality of patient and health care.
Our iCoN initiative, started in 2012, has helped us transform the way we teach, the way students learn and the way we lead as a college. The initiative continues to expand, and students are now engaging in active learning strategies, using Apple devices and apps to create capstone projects and receiving real-time feedback on assignments and tests. Faculty members continue to find innovative ways to flip the classroom and more fully engage students. The college's increasing support for the transformation in teaching and learning and our sustainable model for enhancing technology and innovation has led to our recognition as an Apple Distinguished School since 2014.
We were the first college to integrate the 1819 Innovation Hub into our curriculum, taking the lead on the university's outward-facing approach to higher education and adopting its mindset of boldly leaning into the future, creating new opportunities and solutions in the process.
Our culture of committed leadership has allowed us to successfully change the delivery of nursing education and faculty-student interactions, while focusing on the goal of graduating nurse leaders who are critical thinkers and confident with technology so they are able to seamlessly access the technology they need to provide effective care without losing sight of what is most important — the patient.