For three decades, the Florence Nightingale Awards for Excellence in Nursing brought the Greater Cincinnati community together to recognize and celebrate outstanding nurses who go above and beyond to provide exceptional patient care. To create opportunities to celebrate and honor other nursing leaders through history and allow for further insight and a richer understanding of the nursing profession, the awards were renamed Torch of Excellence Nursing Awards.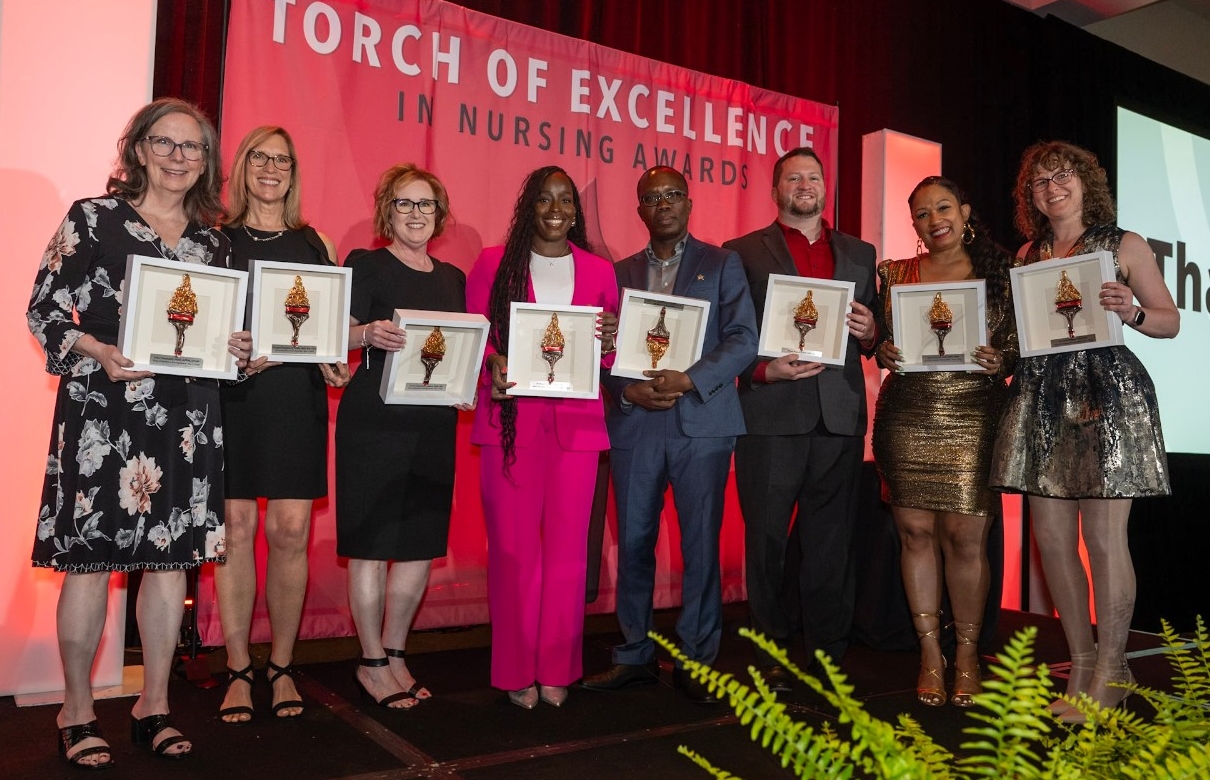 View photos from the 2023 Torch of Excellence Nursing Awards celebration.

Do you know an outstanding nurse in the Greater Cincinnati region who deserves recognition? We're accepting nominations for our 2024 Torch of Excellence Nursing Awards in the individual and team-leading nurse categories. Submit your nomination today!

Recognize Excellence
Beyond their reputation for compassion and dedication, nurses are highly specialized professionals, constantly evolving with patient and population needs and advancements in education and research. The annual Torch of Excellence Nursing Awards recognize and celebrate outstanding individual and team-leading nurses in the Greater Cincinnati region who combine these traits to raise the bar for patients and the profession.
Provide Opportunities
As the nursing profession faces substantial challenges — an aging U.S. population that requires more complex care, a large contingent of nurses reaching retirement age, unacceptable levels of health inequity exacerbated by the pandemic — attracting, retaining and graduating a diverse nursing workforce is paramount to ensure equitable care for all. Funds raised at the annual Torch of Excellence Nursing Awards celebration support scholarships for students of underrepresented and/or economically disadvantaged backgrounds.
Pass the Torch
As part of the annual Torch of Excellence Nursing Awards celebration, we honor nurse leaders throughout history who who boldly reinvented and reinvigorated the way health professionals provide care, igniting and stoking the flame for the nursing profession. Each Torch of Excellence Nursing Award recipient is a present-day advocate for patients and the nursing profession and symbolically preserves and passes along this flame by improving lives and inspiring others in the local community.
Mary Seacole (1805 – 1881)
Businesswoman, World Traveler and Author
This year's Torch of Excellence Nursing Awards celebration highlights Mary Seacole, a Jamaican businesswoman, world traveler and author who cared for British soldiers during the Crimean War.
Seacole was born in Kingston, Jamaica. Her father was Scottish and a member of the British Army and her mother was Jamaican and a healer who used Caribbean and African herbal medicines. Seacole acquired her mother's skills and, because of her family's close ties to the army, she also observed military doctors' practices and combined the two in providing care. She spent several years in Panama, caring for cholera patients and running a restaurant, before paying her own way to Crimea and opening the British Hotel for sick and wounded soldiers of the Crimean War. At times, she tended to troops on the frontlines and became well-known for her contributions.
After the war, Seacole returned to England with little money. Those who admired her held a fundraising gala that relieved her of bankruptcy. She later published a 200-page autobiography — the first published by a Black woman in Britain — chronicling her travels. Despite her notoriety, she was lost in history for more than a century before returning to prominence. In 2004, she was voted the top Black Briton and, in 2016, a statue in her honor was erected in front of the St. Thomas Hospital in London — the first public statue in the United Kingdom of a named Black woman.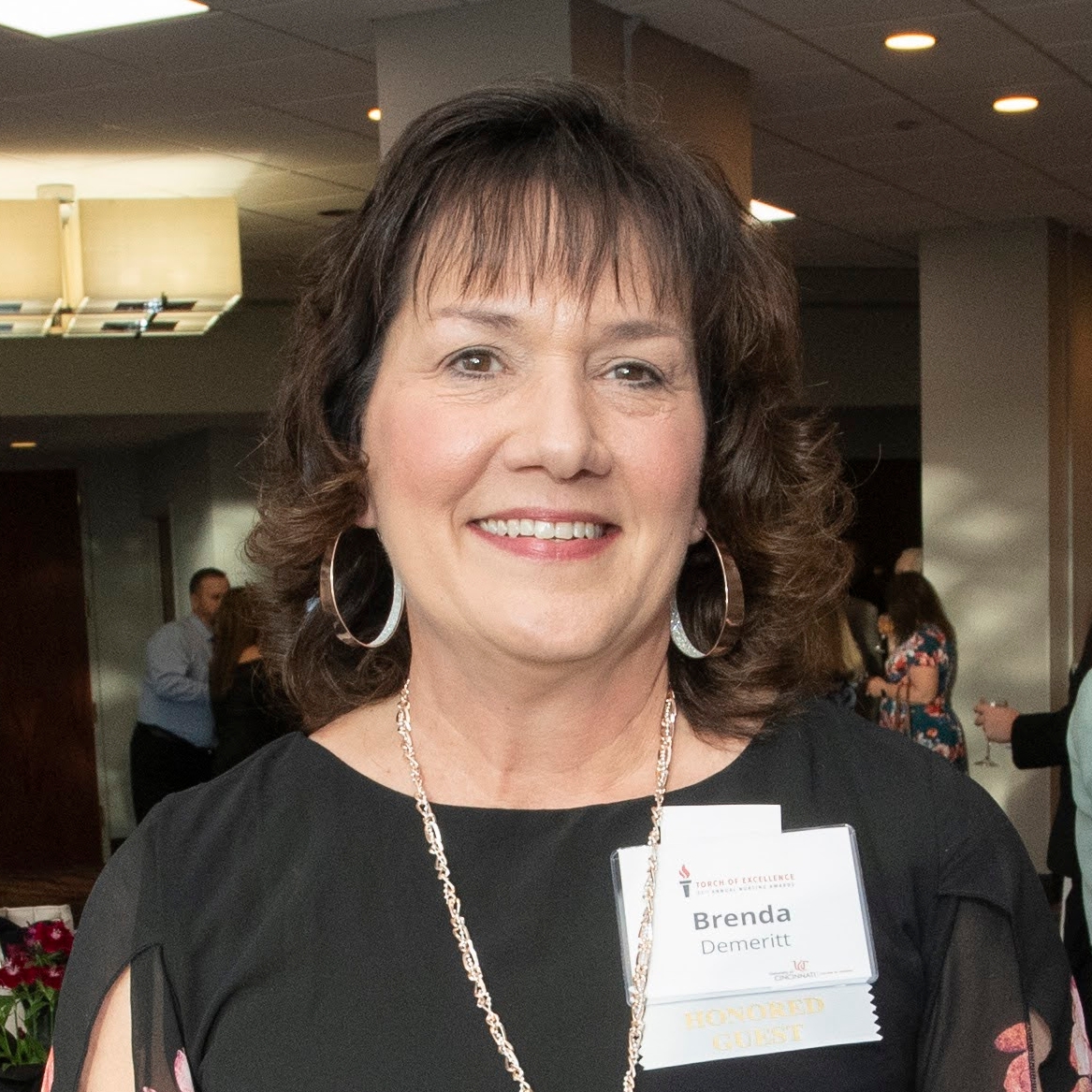 Brenda Demeritt,
BSN, MHA

Cincinnati Children's Hospital Medical Center
A kind and compassionate nurse, Brenda Demeritt is also a strong, focused leader praised by colleagues as "a visionary" for efforts to improve outcomes for patients on the medical/surgical unit she directs at Cincinnati Children's. To illustrate her work as a "transformational leader," a colleague explains how Demeritt initiated and improved RN handoff at the bedside within her unit, a system that has enhanced quality care and patient safety and improved the hospital experience for patients and families. In addition, Demeritt has embraced unit-specific diversity, equity, and inclusion initiatives. Her work with a multidisciplinary team yielded a grant that provides daily meal cards to caregivers of patients with Medicaid and self-pay plans. Under Demeritt's leadership, her unit was also the first to implement an electronic screening tool to assess social risk and needs among patient families, identifying issues such as food security, caregiver education and health, housing, transportation, and firearm storage safety. An active listener and advocate for work/life balance, Demeritt developed a "tap out" system so staff under duress can hand off duties for a 15-minute break. Such care for colleagues, on both a personal and professional level, is very much appreciated by a team that recognizes her as "the most amazing RN and boss."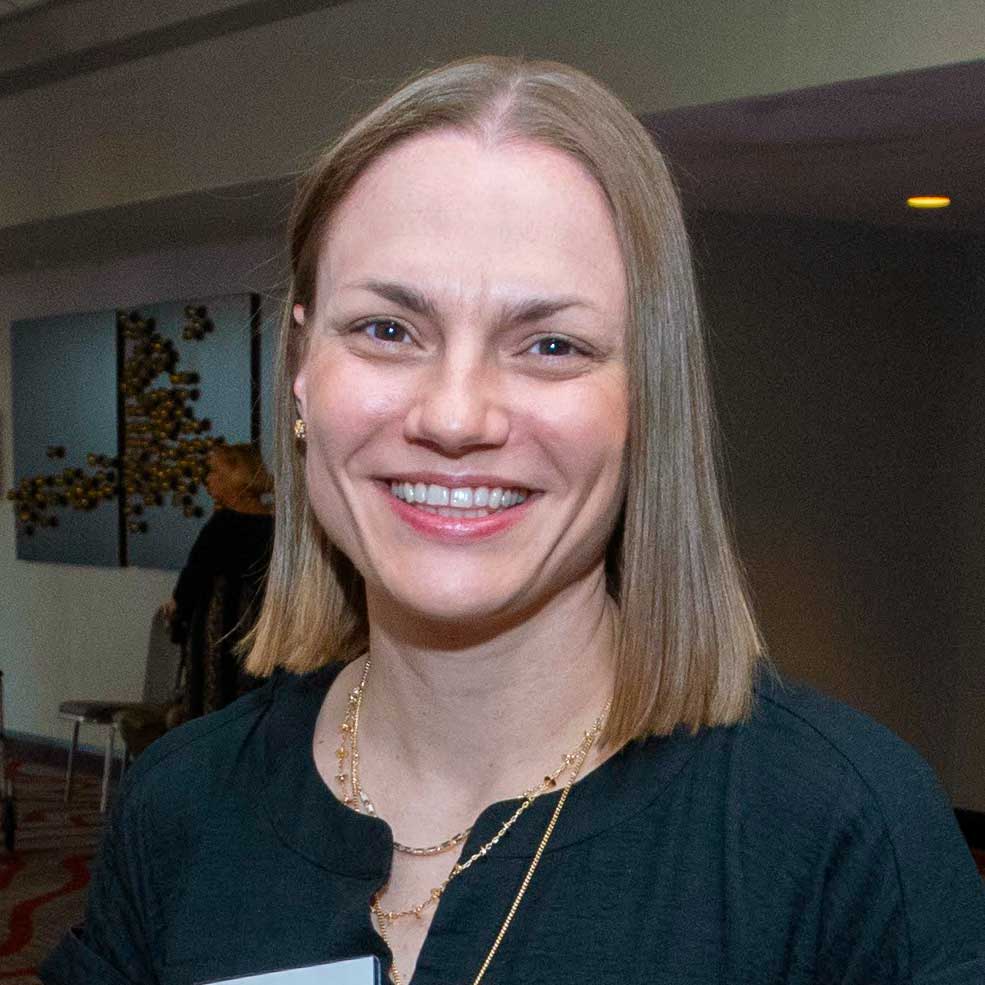 Gayle DeRoche,

RN


St. Elizabeth Healthcare
Labor and delivery nurse Gayle DeRoche is committed to her patients, her team, and her community with extraordinary energy and passion. Her organizational skills and "quiet confidence," coupled with her efforts to stay professionally current and innovative, have had a positive impact on nurses, role transition students, and clinical students. DeRoche is chair of the Education Council, and has been "a driving force behind researching the physiology of birth and educating nurses on different techniques and positions to safely labor and deliver our patients while trying to decrease cesarean sections," states a colleague. She serves as a unit Wellness Champion and is a representative for the hospital-wide Clinical Ladder Committee while also working with variety of committees, including the "Moms Own Milk" work group. Formerly a senior airman in the U.S. Air Force, DeRoche's ability to remain calm, "react quickly and appropriately," communicate effectively, and collaborate with peers for the good of the patients have made her an exceptional role model. Additionally, DeRoche is active in her church, organizes a Thanksgiving food drive, collects products for a local women's shelter, and contributes to other events within the community.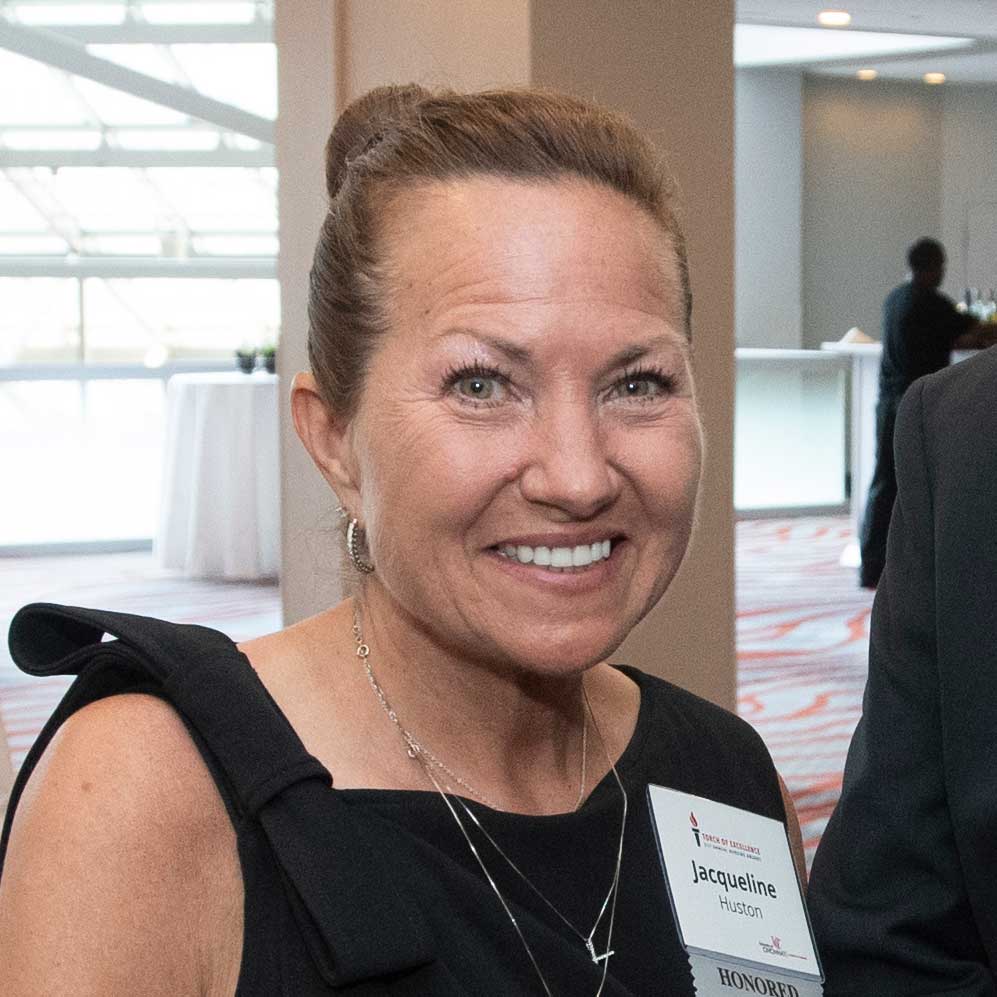 Jacqueline Huston,

RN


Twin Lakes Retirement Community
Though Jacqueline Huston is a clinic nurse at Twin Lakes Retirement Community, her title reflects only a portion of the role she embraces serving the approximately 300 independent-living residents on the campus. Whether visiting residents in their homes for a routine blood pressure check, collaborating with the chaplain on advance directive counseling, or working with Health Committee members to solve a community problem, she shows a deep concern and compassion for all, notes an admirer, adding, "No one ever has anything but good things to say about her." Huston is "a jewel" to residents and colleagues alike and appreciated for her positive attitude, as well as her willingness and ability to help wherever and whenever needed. A member of the Twin Lakes team for 16 years and former manager of the community's 24-bed skilled nursing and rehabilitation facility, Huston is also admired for her nursing skills, leadership and work ethic. During the height of the pandemic, she organized COVID clinics to test, treat and immunize residents. "Her confident manner made us realize that we should just stay calm, that we would get through the pandemic together. And we did," states a resident. "Her reassurance and caring go far beyond the call of duty," says another.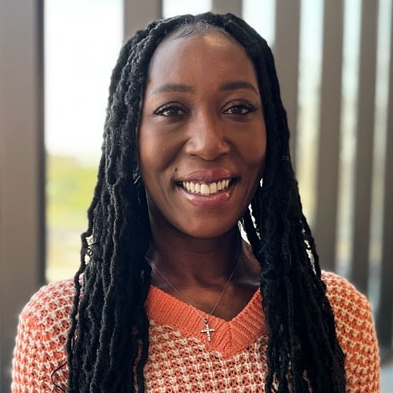 Taprica Mosley,

RN


UC Health
Among patient families and co-workers in the Neonatal Intensive Care Unit at UC Health, Taprica Mosley is known as an "angel" for her "selfless acts to heal and make others happy," says a team member. With a smile on her face, she "talks and walks with grace and confidence," notes a colleague, as she tends to the tiniest and most fragile patients in the healthcare system. Mosley joined UCMC in 2013 and "truly adores being a nurse," states a co-worker. She always maintains professionalism and is appreciated for her willingness to lend a helping hand, traits demonstrated most distinctly in 2022 when she delivered and then saved the life of a breech premature infant while she was off-duty, vacationing on a cruise ship. During this emergency, Mosley delegated tasks to medical personnel on the ship and "ran the entire code," recounts an admirer. The baby required full resuscitation including intubation (by the ship's dermatologist), chest compressions, and hypothermia resuscitation. Despite not having proper equipment, Mosley devised makeshift materials from items on hand to keep the baby warm. Her experience and knowledge have been lauded by the doctors and nurses on board who trusted her to make the appropriate decisions. "All ended well and the baby is now at a NICU in Florida doing great," reports Mosley's associate.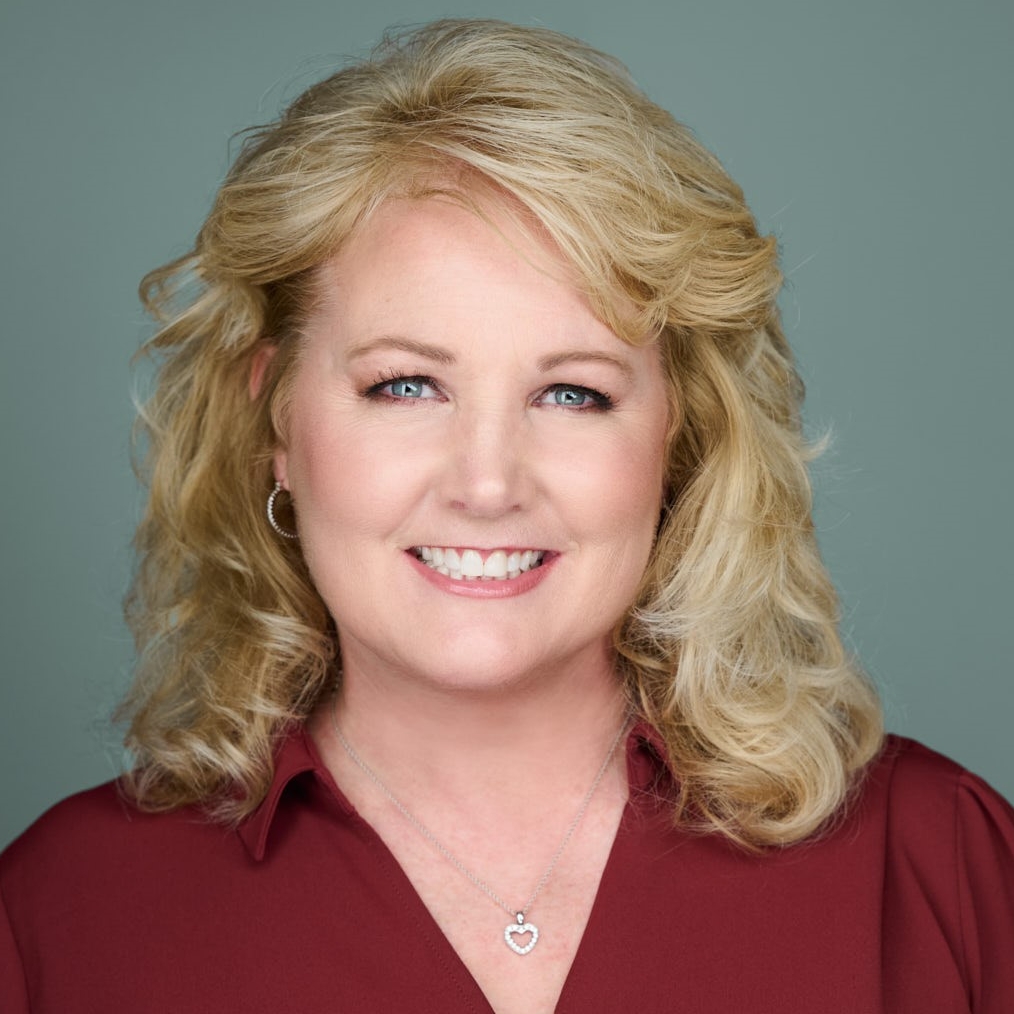 Kathy Roe,

RN


TriHealth
Compassion, calmness, positivity and the ability to think critically are desirable traits for an oncology nurse, and Kathy Roe has these and so much more, according to those who work with her. A radiation oncology nurse at Good Samaritan Hospital and primary nurse for Dr. Anton Khouri, Roe is recognized for her kind and patient dedication to those undergoing radiation treatment — particularly those in the most challenging circumstances — and for her extraordinary work to provide them with the best experience possible. While supporting a patient who has survived sexual abuse, assisting another experiencing homelessness, or encouraging a patient along her weight-loss journey, Roe wants each person "to know and feel that someone is caring for them," says her manager. She is also lauded for her efforts to educate patients and their family members. Formerly an inpatient radiation nurse and clinical adjunct nursing instructor, Roe is a respected preceptor, always encouraging the next generation of nurses. She is an oncology-certified nurse with a radiation certificate, as well as a longtime member of the Oncology Nursing Society and leader of the Shared Leadership Committee in Radiation Oncology. Roe is a "true professional oncology nurse," notes a colleague.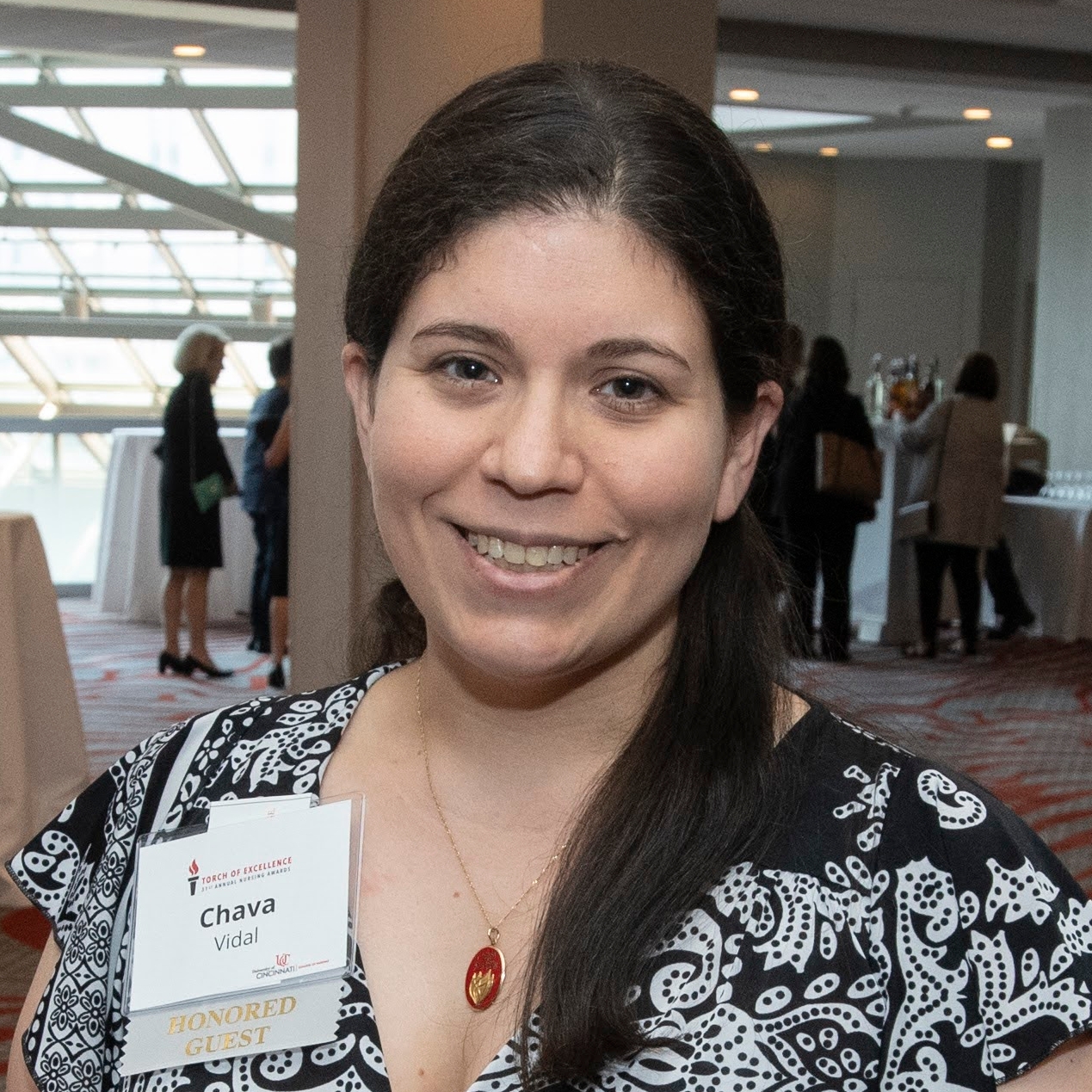 Chava Vidal,

BSN, RN


Hospice of Cincinnati
During the most difficult and vulnerable days of their lives, patients receiving hospice care and their families are grateful that Chava Vidal is bedside. She is a focused and respectful caregiver, skilled not only at providing direct care, but willing to spend time talking with families to ease their anxieties. Her positivity is appreciated by those she works with and the individuals she serves. Vidal was a hospice nurse in Dayton before joining HOC in 2021 and familiar with the challenges of caring for the sick and dying. Yet, she never allows her worries or tough days show, say co-workers. Rather, she developed a journal club for caregivers at HOC to help them cope and learn; it's a space for them "to discuss the hardships, goal outcomes, and how to be better nurses," explains a colleague. Described as a mentor, leader, team player, and cheerleader at HOC, Vidal is known to step in whenever needed, fulfilling the role of charge nurse if necessary and taking on a variety of projects. Perhaps the finest compliment comes from a colleague who writes, "If a family member of mine needed to receive care, I would want it to be from Chava."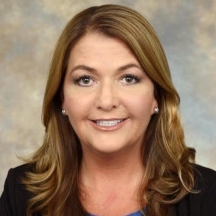 Michelle Zamudio,

MSN, CNM


University of Cincinnati / The Christ Hospital
As a Certified Nurse Midwife, Michelle Zamudio's excellent clinical skills have saved lives, states a colleague at The Christ Hospital. Zamudio is also a leader, recognized state-wide as a fierce advocate for women's health. Additionally, she is the first non-physician professor at the University of Cincinnati College of Medicine and an educator at her alma mater, the University of Cincinnati College of Nursing. A nurse for 36 years and a midwife for 27, Zamudio is also a retired Lieutenant Colonel of the U.S. Air Force. Yet, she remains "humble and steadfast," as she strives to improve the healthcare system, notes a co-worker. Zamudio is trained and certified in CenteringPregnancy, a program focused on improving maternal outcomes for the most vulnerable. She also worked with physicians to develop the Ujima Project in Cincinnati to reduce maternal mortality and reduce hypertension morbidity in the community. Former patients readily share their gratitude for her care and respect, even crediting her as the impetus for their careers in nursing. Zamudio has served on the Ohio Board of Nursing, the American College of Nurse Midwives (Ohio affiliate), and on the Board of Directors for the Ohio Association of Advanced Practice Nurses (OAAPN). She "personally was able to get immediate newborn care for nurse midwives, helped draft verbiage for laws regarding opioid prescribing, and has ensured a voice for nursing on her state committees…I have never met a more impactful provider who demonstrates such passion and dedication," states an admirer.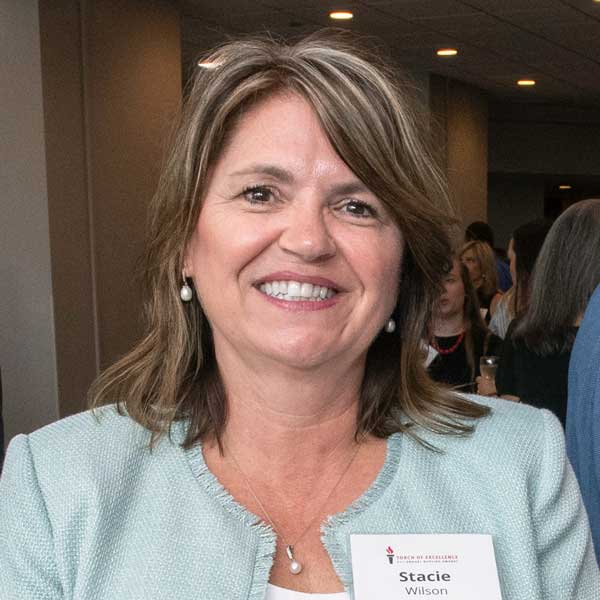 Stacie Wilson,

BSN, RN


Every Child Succeeds / Cincinnati Children's Hospital Medical Center
Since its inception just three years ago, the Every Child Succeeds (ECS)/ Nurse-Family Partnership Team, led by clinical supervisor Stacie Wilson, has had "measurable life-saving impacts" on underserved families in Hamilton and Clermont Counties. With the goal of strengthening families, supporting healthy environments, and optimizing infant/toddler development, Wilson and her team of seven specialty-trained nurses provide services to families in their homes, thus removing barriers such as transportation and childcare. "The core job of the nurse home visitor is to guide each of the 25 families on her caseload through the emotional, social and physical challenges and systemic barriers in health care they face as they prepare for a healthy birth and to care for an infant," explains a nominator. A Kentucky native, Wilson has extensive nursing experience in multiple health care systems locally and elsewhere. She served as clinical supervisor for a nurse-family partnership in Arkansas, as well, garnering experience that has benefited both her associates and the community they serve. In 2022, 99 percent of the children in the program were up to date on immunizations; 94 percent of babies were born at a healthy gestational age; and 242 depression screens were administered with 100 percent follow-up for moms who needed clinical referrals. Data aside, testimony from one program participant demonstrates Wilson's team's success: "Thank you for making what should have been the hardest time of my life, becoming a mother, the easiest time. With your time, generosity and kindness, I was able to be a good mother."
Sponsors
---
Presenting Sponsor
Gold Sponsor
Cincinnati Children's Hospital Medical Center
Silver Sponsor
Mercy Health
TriHealth
St. Elizabeth Healthcare
Bronze Sponsors
Cincinnati Magazine
Christ Hospital Health Network
Southern Ohio Nurses Association (SONA)
Twin Lakes Retirement Community
For details on event sponsorship, contact Matt Pearce, executive director of development for UC's Academic Health Center colleges, at 513-558-5386 or matt.pearce@uc.edu.
Individual Award Nominees
Garret Aini
Chet Backman
Nancy Baron
Olivia Bayer
Olivia Bellofatto
Judith Berra
Robbin Blau
Stacy Blue
Jennifer Bolender
Anna Brewer/Nassano
Pamela Brown
Erica Bryan
Jessica Carter
Hailey Childs
Skylar Christman
Cindy Clair
Cassie Clousson
Toni Covington
Christina Crist
Sarah Curry
Aaliyah Davis
Hillary Davis
Kristi Demaris
Brenda Demeritt
Gayle DeRoche
Christa Duff
Kathleen Duncan
Zeinab Ellis
Jacqueline Farrel Huston
Brittany Farrow
Sue Fluty
Laura Forste
Corliss Freelove
Michelle Geiger
Kris Goldfuss
Ashley Gormley
Sarah Greenlee
Kylee Ham
Katrina Harrill
Debbie Heinlen
Aneta Helmer
Heather Hoge
Sharon Hull
Sarah Hyde
Mary Imfeld
Alexis Jackson
Courtney Kahny
Katherine Keller
Michelle Kissel
Cara Kohlrieser
Kayla Korb
Gabrielle Kraemer
Natalie Kritzer
Elizabeth Latulippe
McCormick Lucke
Gabby Mann
Heather McCullough
Tammy McFarland
Ashley Medley
Susan Minton
Natalie Mishne

Melissa Modzelewski
Hannah Moore
Vicki Murphy

Taprica Mosley
Amy Musselman
Christen Myers
Neil Myers
Meredith Myres
Austin Nilles
Emily Kate Noehring
Tiffany Overly
Carrie Pierce
Marisa Pike
Amy Plapp
Amy Porta
Debra Ramer
Julie Reynolds
Molly Robben
Kathy Roe
Laura Sala
Abigail Sauerbeck
Katherine (Kate) Schadler
Julia Schartung
Christine Schmidt
Tonya Schneder
Kari Schoenberger
Dawn Schultz
Brooke Shelton
Ryan Siders
Bianca Sidoti
Samantha Siefker
Nicholas Smith
Roddale Smith
Vanessa Smith
Jamie Spaw
Eileen Spotts
Ruthanne Strange
Allen Streck
Diana Sutherland
Marsha Swango
Zariah Swartz
Pamela Thaxton
Cara Tolle
Chava Vidal
Emily Vincent
Joan Von Korff
Beth Wahl
Donna Walker
Ashley Walters
Lexie Weithman
Alice Whitton
Amani Williams
Kimberly Williams
Chanel Williams-Murphy
Michelle Wilson
Emily Yursky
Michelle Zamudio
Melissa Zimmer
Jolyn Morgan
Kandas Mullinax
Stacie Nance
Kathi Kramer
Theresa Riggs
Amy Robinson
Amber Rose
Sandra Russell
Abigail Sauerbeck
Matthew Smith

Amanda Stamm
Sandy Stenger
Tammy Tenhundfeld
Sherrie Topper
Salena Utter

Vanessa Vonderhaar
Meagan Whitson